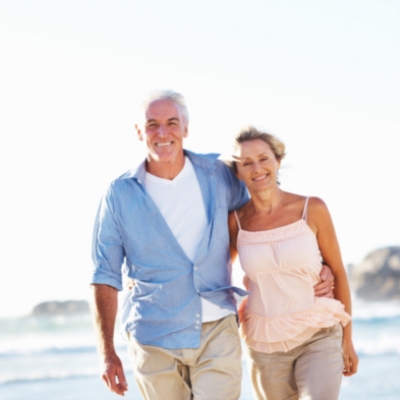 Testosterone Therapy Results and Timeline
Finding out that you have testosterone deficiency (Low T) is not the end of the world. Instead, it is the start of a journey highlighted by somewhat amazing testosterone therapy results. We say somewhat amazing because everyone's results will differ based on the level of testosterone decline and the severity of the Low T symptoms. Some people who are just beginning to experience low testosterone symptoms will find the benefits to be pleasant and welcome. Those men and women who have severe testosterone deficiency that causes an impaired quality of life will be astounded by the changes coming their way.
Now, do not expect the results of testosterone replacement therapy to occur overnight. It took many years or even decades for your body to get to the point it is at today. Luckily, it will not take that long for you to notice any positive changes.
Like most people, you are probably wondering how long to see results from testosterone therapy. After all, you want to know your treatment is working. Although the benefit timeline listed below is only an estimate, it provides you with a basic guideline of what to expect – and when. Considering it is an average of when people tend to achieve these milestones, the results can vary by as much as a month or more in either direction. That means you should wait one month after an expected benefit before contacting the doctor if you do not notice that change.
The results listed in the testosterone therapy timeline below are an estimate of when you can expect to see these benefits.
Why Can Men Benefit from Testosterone Therapy
Men begin to lose testosterone about halfway through their twenties. It is not a substantial decline – only about one percent a year. In some cases, a man may experience a faster reduction of up to two percent each year. That could translate to a twenty percent drop in testosterone levels within ten years, and a forty percent decline after twenty years. Men who can benefit from testosterone replacement therapy results are those who begin to notice changes associated with Low T.
You probably think lack of sexual desire and lost muscle mass are the two most likely symptoms of low testosterone levels. It is true that these are significant issues associated with testosterone deficiency. What you may not know is that these are only the tip of the proverbial iceberg. Testosterone has protective benefits for your brain, heart, body, and prostate. Hypogonadism, another term for Low T, develops when your body no longer produces enough testosterone to meet the needs of the androgen receptors.
When that happens, you may experience a decline in all areas connected with testosterone functions, including:
Loss of bone density increases the risk of fractures and osteoporosis
High cholesterol, triglycerides, and blood pressure associated with atherosclerosis and cardiovascular disease
Impaired metabolism resulting in weight gain and glucose intolerance
Poor sleep patterns causing fatigue and low endurance
Forgetfulness, lack of focus, and decreased cognitive abilities
Depression and other mood changes
Reduced red blood cell production causing anemia and poor circulation which can also affect erectile functions
Balding or thinning of the hair
Enlarged male breast tissue (gynecomastia) due to imbalanced estrogen to testosterone ratio
Loss of drive, productivity, and overall quality of life
These are only some of the ways men can benefit from the results from testosterone therapy. By increasing testosterone levels in the bloodstream, each of the issues listed above will begin to see a reversal.
On the whole, the testosterone therapy results in men are similar to those in women. While females do not have to worry about erectile functions, they can benefit from better vaginal lubrication and improved sensitivity resulting in more pleasurable sex.
Both men and women can benefit from boosting their low testosterone levels.
Testosterone Therapy Results Timeline
As previously stated, the testosterone replacement therapy results time will vary from one person to another. It depends on the type of treatment received and how well and quickly the body can metabolize the testosterone.
The following testosterone therapy results timeline gives you an estimated idea of when to expect each of these benefits:
Within the first week after beginning testosterone therapy:

Insulin sensitivity starts to improve

By the end of four weeks of testosterone therapy:

Sleep becomes easier to achieve, lasts longer, and provides a more restful feeling
Increased energy and focus
Improvement in spatial working memory and processing of spatial data of visual content
More sexual dreams, fantasies, and thoughts
Enhanced feelings of sexual desire, faster arousal, and more satisfying sex
Men may notice the return of their morning erections
Less anxiety and stress
Improved mood and sociability
Better perception of quality of life
Inflammation markers (C-reactive protein) begin to decline (between 3 and 12 weeks)
Early changes in total cholesterol and triglyceride levels may begin

By the end of two months of testosterone therapy:

Feelings of depression may be significantly lower (if not gone)
Considerable changes in energy levels and endurance

After three months of testosterone therapy:

Glycemic control improves (between 3 and 12 months)
Blood pressure levels may begin to decline (between 3 and 9 months)
LDL cholesterol decreases and HDL cholesterol may increase (between 3 and 12 months)
Men with chronic heart failure begin to experience better exercise capacity
Red blood cell formation improves
Improved lean muscle mass
Decreased fat mass
Better muscle strength

By the end of six months of testosterone therapy:

Possible rise in PSA levels
Maximal effects on erectile functions reached (typically between 3 and 6 months – may take up to a year)
Improved bone mineral density

After one year of testosterone therapy:

Decreased glucose and glucose disposal rate (after nine months)
Maximum effects of muscle strength achieved
Increased maximal bladder capacity and compliance for possible improvements in nocturia
The benefits of testosterone therapy begin soon after treatment onset and continue to improve with each passing month.
How Do Testosterone Therapy Results Improve Overall Well-Being?
Judging from the listed results of testosterone therapy, it is apparent that testosterone impacts all areas of a person's life. The overall well-being of an individual relies on many factors, including sleep, energy, personal relationships, sex, socialization, and professional productivity.
A person with Low T may find that they no longer have the drive to pursue advancements in their career. With declining productivity and poor on-the-job performance, they may find themselves out of work. That can lead to financial and relationship problems.
Speaking of relationship issues, testosterone deficiency can interfere with more than just intimacy. The decline of a sexual relationship is only a fraction of how Low T can impact a couple. A lack of energy can lead to one person carrying all the weight for working around the home. Mood changes and depression can take a serious toll on a couple, jeopardizing the relationship.
Weight gain, hair loss, muscle decline, lack of sleep, and fatigue can make it difficult to want to engage in social activities. Joint pains caused by bone loss can impair physical exercise.
Thanks to the positive testosterone therapy results, overall well-being, and quality of life improve significantly. These changes occur by bringing testosterone levels back into a healthy balance.
Testosterone therapy improves overall well-being and quality of life by reversing the symptoms that caused their decline.
How Do You Improve Testosterone Therapy Results?
Testosterone alone is not a magic bullet. While you will receive significant results, testosterone therapy can benefit greatly by your actions. For some people, poor lifestyle habits can lead to a quicker decline in testosterone production. A sedentary lifestyle consisting of sitting all day and lack of exercise takes a terrible toll on the body. Add to that mix inferior dietary choices, stress, and reduced sleep, and you have a recipe for Low T.
Even if you receive testosterone therapy from a hormone specialist, you can help improve your testosterone therapy results. If you do not get any regular exercise, you will find that you can increase weight loss, muscle mass, and bone density by starting to work out. It does not have to be drastic – only 30 minutes of weight-bearing exercise three times a week. Focus on working the large muscle groups for the maximum benefit.
Try to go to sleep earlier and get at least seven hours of sleep each night. Eliminate or significantly cut back on your sugar intake. Opt for lean, grassfed beef and organic chicken when selecting protein. Consume more vegetables and fruit. Finally, reduce stress to lower cortisol levels.
By doing all the above, you can improve your testosterone therapy results. Contact RXHormone medical clinic to find out more about testosterone therapy for men and women. Consultations are confidential and provided at no charge.